Programs
Horangi aim to provide different programs to fit all ages with most affordable pries in the area
Tiger Cubs
The tiger cubs program is designed for ages 4 to 6. This program teaches street proofing – how to deal with strangers, basic aspects of Taekwon-Do and it is taught with the age of the child in mind to help keep their focus, to be attentive and to follow commands.
Kid's Classes
The kid's classes are for age 7 to 12. Emphasis on discipline and self-control, which are part of the fundamentals of Taekwon-Do will be highly stressed in this class. Basic moves, kicks and punches, along with patterns, sparring techniques and self-defence will make up the rest. The most important part of this class is having FUN.
Adult Class
The adult classes will be for ages 13 and up. You will be working at your own fitness level in a non-judgmental environment. This class will have more of a fitness tone as most adults want to get in shape as well as learning some self-defence. The fundamentals of Taekwon-Do will be taught as well as cardio, flexibility, muscle tone and strengthening.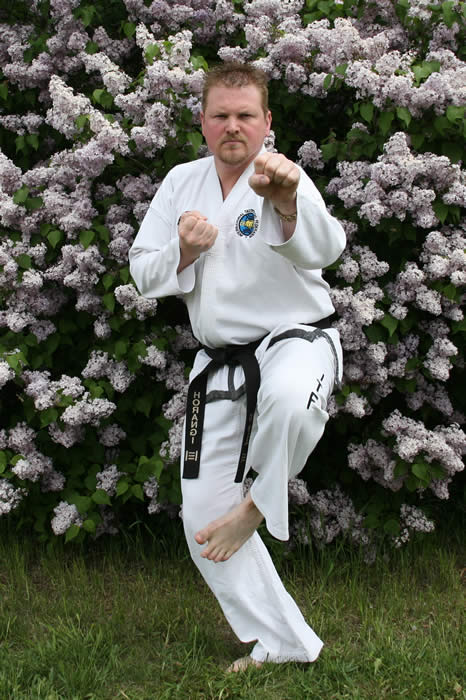 Darryl Rasmussen
Instructor & Founder
Darryl Rasmussen has been training in Taekwon-Do since 1991. Over the past 17 years he has gained his knowledge in Taekwon-Do from many different instructors and masters including the founder of Taekwon-Do General Choi Hong Hi. He has competed in tournaments across Canada and the United States of America winning numerous medals including the Alberta Provincial Champion for 2001 and the Canadian National Champion for 2005 and 2006. Mr. Raz has over 50 medals from competing. Mr. Raz holds a Fourth Dan (degree) Black Belt certified by the International Taekwon-Do Federation
Are you Ready to Join US ? 
BUILDING CONFIDENCE ONE KICK AT A TIME!
FREE TRIAL
1 Month No Obligation
Come try us out 2 times a week
BEST VALUE
$150/Month
1 Year Membership
2 times a week
Contact us for your 2 week no obligation trail 780-539-1716
STANDARD
$175/Month, month to month membership
No Obligation  2 times a week
More than 10
WINNING AWARDS

100 m2
The biggest floor in GP